I had given a brief
introduction about Sikkim
in my first post. Sikkim joined Indian republic as the 22nd full fledged state in 1975. And since then it has grown in leaps and bounds turning from a almost unheard tribal kingdom to a state were tradition,nature and modernity comes face to face to present a highly marked tourist destination.
One of the particular attraction which Sikkim has is that of Adventure Sports. If you are an adventure buff then the adrenaline rush during river rafting and the soft touch of nature during trekking in the high himalayas can mean a different world to you.
I pesonally have not experienced much of adventure sports in Sikkim but by the reactions of those who have , it's definitely on top of the list for adventure buffs specially in India. But it reminds me of the Advanced course in Rishikesh in Feb 2007 where we had also done river rafting. It will require an altogether different post to list the adventures we had in rishikesh.
From the numerous avenues available to experience adventure sports, some are prominent and are listed here:
White River Rafting
W
hite water rafting is a later entrant of adventure sport in Sikkim. Only the Teesta and Rangit rivers offer long stretches which are ideal for safe rafting. Teesta has been graded on the International scale at Grade 4. The icy cold waters of the rugged Teesta have a series of rapids with varying intensity and character. It offers one of the finest rafting stretches in the world. Rangit, a tributary of the Teesta, has more difficlult stretches.
On both the rivers, the riverbanks have deep forests, with some patches of terraced cultivation, and small villages. Plenty of white sandy beaches exist, offering good campsites. Rapids of classification 2 to 4 are interspersed with placid floats, making rafting an enjoyable experience. Facilities for overnight River beach camping is available. Beginners as well as experienced adventurers can seek the assistance of the Department of Tourism and travel agents for arranging river rafting trips .
Paragliding
Jorethang, in west Sikkim, and certain parts of north Sikkim are popular locales for paragliding.
Paragliding in Solang valley,Sikkim
Mountain Biking
I had visited some of the real gem places of Sikkim and I feel that it can give a serious competition to the most beautiful valleys in the world.Even I did not know that places that beautiful existed.
One particular place stands out from the rest and is called 'YUMTHANG' (or the valley of flowers). It is exactly a valley of flowers. If visited during spring, the entire roadway of aroun 20 kms to yumthang is covered with flowers. And it's literal here, the road is covered with flowers.You have to visit there to believe me!!!
Yumthang valley in North Sikkim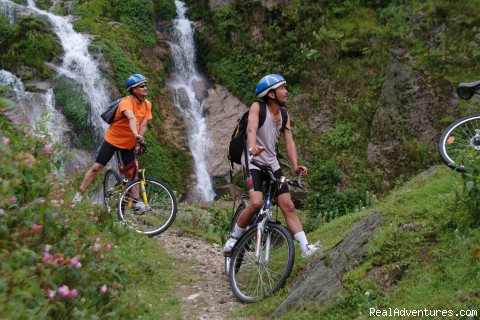 Adventure mountain biking in Yumthang
Sikkim's best adventure product is mountain biking. The rugged and dramatic terrain of Sikkim Himalayas offers sure and exciting biking trails to the adventure lovers. The beauty of the countryside, flora and fauna and lifestyle of the Sikkimise people is best experienced on a bike's seat as you meander through lush green hills and dales. This is new sport that Sikkim boasts of and many have lured by the exiting thrills of this out door fun. There is no specific season for mountain biking. Many have enjoyed riding there bikes during monsoon in slushy dirt road.
Trekking
Trekking peaks in Sikkim
Sikkim has to offer a number of fascinating trekking routes to enterprising trek enthusiasts. The best time to trek in these parts of the Eastern Himalayas is between mid- February to May and again from October to December. The treks pass by beautiful gompas, simple but colourful hamlets and through so fascinating alpine forests full of a rich variety of flora and fauna. Yuksom is an ideal take-off point for trekking. This point is invariably used as a centre of climbing and trekking expeditions by the Himalayan Mountaineering Institute, Darjeeling. The trek to Bakhim is an unforgettable B experience. Dzongri at an altitude of 3,962 metres, offers the visitor an excellent and unobstructed view of the Khangchendzonga Massif. It also provides a trekker with superb views of sunrise and sunset.
Mountain Climbing
If you are willing to go to the extremes then mountain climbing is for you.But you have to have certain level of physical fitness to get permit to do it.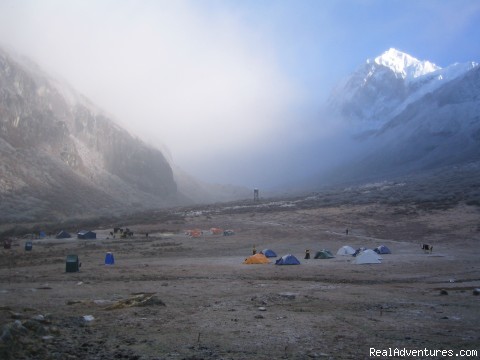 Base camp at the foot of Mt. Kanchenjunga

Mountain climbing near Mt. Kanchenjunga
So next time you plan your adventure sports, it would definitely be the home of the highest mountain in India.
Cool websites about Sikkim: